ABOUT
FOR THOSE SEEKING TRANQUILITY, RELAXATION, AND REJUVENATION
In one of the most beautiful locations of Corfu, where the green nature blends harmoniously with the crystal clear waters of the Ionian Sea, in the popular village of Benitses, you will find Dimitra Studios and apartments.

The idyllic landscape offers guests ideal moments of relaxation and rejuvenation. Built a few meters away of the center of the village, with idyllic views of the beautiful and picturesque marina of Benitses, surrounded by green forest, it allows the visitor to enjoy unique moments of relaxation, tranquility, and rejuvenation while offering all the amenities and facilities for their holidays. The comfortable, spacious rooms and apartments equipped with all modern comforts as well as the idyllic, atmospheric environment are ideal for offering a unique accommodation experience to those who wish to relax and combine tranquility with the unparalleled beauty of the Corfu landscape.

Dimitra Studios are designed to accommodate families, groups, and couples since each apartment is fully independent and can offer the privacy and relaxation you desire. In the large, comfortable private verandas of the rooms, you can experience moments of peace and tranquility and enjoy your favorite beverage while admiring the marvelous beauty of the Corfu landscape. Shortly before sundown, you will be able to watch the magnificent sunset as the god Helios [sun in ancient Greek] disappears with his chariot in the turquoise waters of the Ionian Sea, giving them unique color shades. In the fully equipped kitchen of the rooms, you will have the opportunity to prepare your meals by tasting the local products. 

The hospitable owners, genuine descendants of the famous Phaeacians from antiquity, respecting the traditional Greek hospitality and aiming to provide high-quality services, have created a beautiful place that exudes intimacy and serenity and can offer everything a visitor seeks during their stay. The complex has all the modern amenities, equipment, and services that guarantee an unforgettable stay.

If tranquility, relaxation, and rejuvenation are what you are looking for during your stay on the magical island of the Phaeacians, then Dimitra Studios is the ultimate choice for your holidays!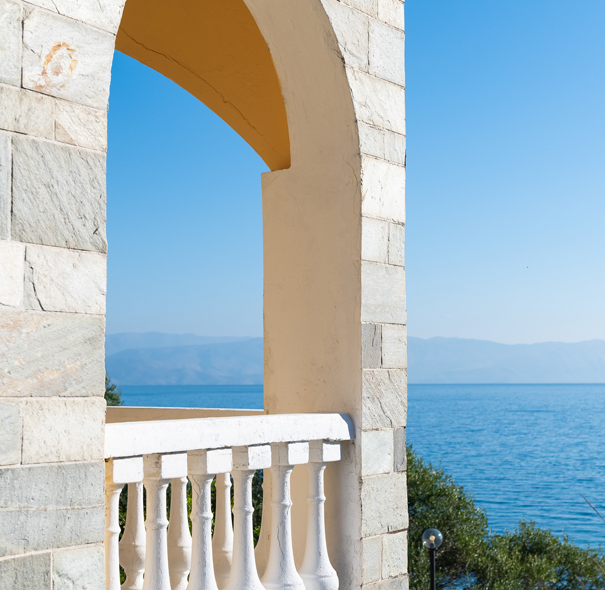 THE AMENITIES AT A GLANCE
Free Private Parking Lot

Air conditioning

Stunning Views of the Ionian Sea

Gardens

Tranquil Environment

Friendly Service

Free Wi-Fi

Free 

​​​Sun Loungers by the Pool 
Bathroom with shower
Towels
TV
SERVICES
18-Hour Reception / Front Desk

Daily house cleaner service

Car & Motorbike Rental

Airport / Port Transfer Service [upon request / additional charge]

Boat Trips [upon request / additional charge]

Doctor [upon request / additional charge]